last term we made a piece of art each my one represents hawaii and its culture.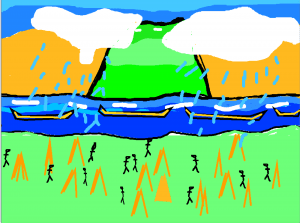 This week for extension we had to draw what we thought Maungarei looked like a long time ago.For this project i used scratch.I made it look like this because i thought there was alot of waka's to transport around  and tribes that used to live on the moutains.
This week we did a movie about being kind.This movie represents Jacob if he would throw away the ball or give it back.It was a challenge because we had 1 hour and 30 minutes to storyboard film and edit it.